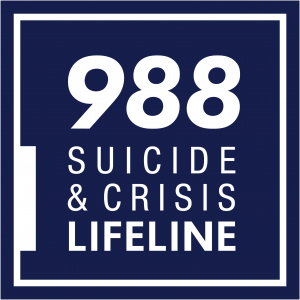 National Suicide Prevention Lifeline
Formerly 1-800-273-8255,  the new, nationwide 988 Lifeline provides 24/7, free and confidential support for people in distress, prevention and crisis resources for you or your loved ones, and best practices for professionals.
Minnesota State Mobile Crisis Services
Every county in Minnesota provides Mobile Crisis Services for both Children and Adults that may be experiencing suicidal feelings or mental health crisis. Crisis services are available within each county 24 hours a day, 7 days a week. County crisis teams are available for phone support as well as face-to-face crisis help.
QPR Institute
QPR stands for Question, Persuade, and Refer — the three simple steps anyone can learn to help save a life from suicide.  Just as people trained in CPR and the Heimlich Maneuver help save thousands of lives each year, people trained in QPR learn how to recognize the warning signs of a suicide crisis and how to question, persuade, and refer someone to help. Each year thousands of Americans like you say "Yes" to saving the life of a friend, colleague, sibling, or neighbor.
American Association of Suicidology
The AAS promotes the understanding and prevention of suicide and supports those who have been affected by it.  This mission is accomplished by directing efforts: to advance suicidology as a science; encouraging, developing, and disseminating scholarly work in suicidology; to encourage the development and application of strategies that reduce the incidence and prevalence of suicidal behaviors; to compile, develop, evaluate and disseminate accurate information about suicidal behaviors to the public; to foster the highest possible quality of suicide prevention, intervention, and postvention to the public; to publicize official AAS positions on issues of public policy relating to suicide; to promote research and training in suicidology.
American Foundation for Suicide Prevention
The American Foundation for Suicide Prevention raises awareness, funds scientific research, and provides resources and aid to those affected by suicide.
National Alliance on Mental Illness
– Minnesota chapter website
NAMI has information on various mental illnesses, including ADHD, Bipolar Disorder, Personality Disorders, Depression, Eating Disorders, OCD, PTSD, and others.  There are also national and local support resources, including a comprehensive Adult Mental Health Resource Guide .
Light, Hope, Life
This suicide prevention non-profit was founded by a lawyer. It offers suicide prevention resources, including warning signs, risk factors, and what to say.
Centers for Disease Control and Prevention
Use the search and keyword "suicide" to locate more than 6000 resources.
Suicide Awareness Voices of Education (SAVE)
SAVE educates individuals about depression and suicide and is a leader in education and advocacy.
Articles and Publications